Has your garage door keypad stopped working? Are you working with faulty and unreliable buttons? Are you having trouble finding a wireless keypad that works with your model garage door opener? Overhead Door Parts Online offers a Universal Keypad that is compatible with the most popular brands of garage door openers and gate receivers. You don't have to struggle with an unreliable keypad, or a dated model that no longer serves your home.
What are the benefits of a Universal Keypad?
Compatible – Control the most popular brands of garage door openers and gate receivers such as LiftMaster®,Chamberlain®, Genie®, Overhead Door ®, Wayne Dalton®, Linear®, Marantec® and more. The universal keypad will work with most major rolling and fixed control codes sold in the U.S.
Versatile – If you have different garage door receiver and opener brands, a universal keypad will communicate with both. Thus, giving you the option to mix-and-match garage door opener and receiver brands on one keypad.
Replacement options – Replacing an existing keypad from any of the compatible manufacturers is easy. Regardless of your circumstance, you can rely on a universal keypad to seamlessly replace your current system.
Easy to set up – With LED lights and tone sounds with each button press, you can easily follow the guides to successfully setting up your new universal keypad. Get step-by-step set up instructions by checking out this video.
Affordable – Many people struggle with a faulty keypad for far too long. Replacing your keypad is inexpensive while adding some convenience to your daily life.
Convenient – If you have multiple garage door openers, a universal keypad allows you to control up to three different openers with a single PIN number.
Simplified keypad programming – With efficient backlight coverage and easy to follow steps, programing your keypad is no longer an issue.
Overhead Door® Universal Keypad Compatibility Chart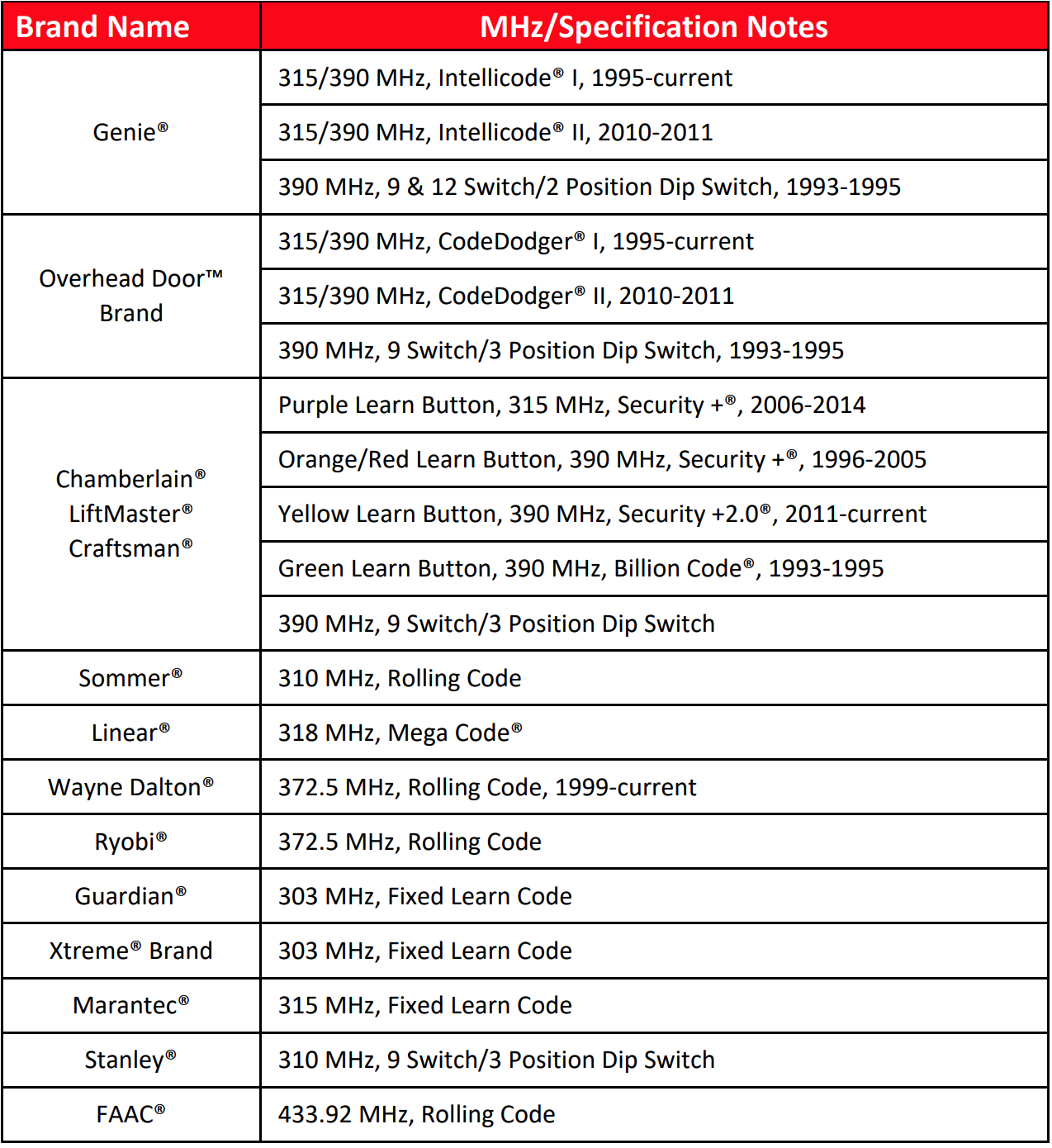 The functionality of a universal keypad goes above and beyond the old style keypad, without complicating the process. Similar to any standard keypad, it will control multiple garage door openers, allow you to set temporary PINs, is battery operated, will remain active 15 seconds after activation and will mount to your wall. However, an Overhead Door® Universal Keypad, will work with many different manufacturers, has more LEDs for better light quality and doesn't have any preset PIN numbers. The keypad provides increased functionality while also providing a more modern design with accessible features like button tones and light enhancements.
Overhead Door Parts Online always offers the newest products on the market. If you have any questions regarding a universal keypad and how it could work in your home or wish to see all the other products we offer, feel to visit our website at www.OverheadDoorPartsOnline.com.