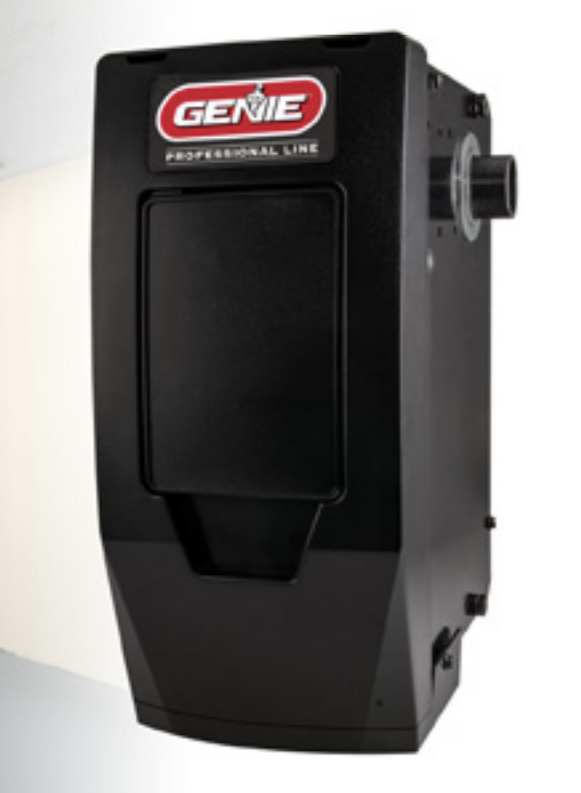 The Genie Wall Mount garage door opener is the newest model on the market, bringing convenience and safety to your family. This garage door opener is perfect for any home and easy for the homeowner to install. The wall mount design clears ceiling space by eliminating the rail and power head, connecting directly to the garage door spring tube. This innovative design is clean, compact and declutters your garage opening ceiling space for storage. The Genie Wall Mount garage door opener comes in two models, one with additional features like battery backup and integrated Aladdin Connect to automate your home. It's time to upgrade your garage door opener with the Genie Wall Mount Pro Series.
Highlights:
Innovative Design – Clears up ceiling space for extra storage or just enjoy the clean, uncluttered look.
Quiet, Powerful Performance – 24V DC motor provides maximum power to operate doors at a speed of 7.5" per second.
GenieSense™ Monitoring and Diagnostic Technology – Provides safety by continuously monitoring operation of the door, stopping the operation to alert you when significant changes occur.
LED Light Features – Bright LED light fixture provides generous light with flexibility to place the fixture wherever desired in the garage.
Safe-T-Beam® Non-Contact Reversing System – With an invisible beam across the door opening, the door stops and reverses to the open position if anything passes through the beam.
HomeLink® & Car2U® Compatibility –Works with ALL HomeLink and Car2U systems regardless of when those systems were made. No additional external repeater box or compatibility bridge is needed.
Simple Installation – Easy for the homeowner to install with comprehensive owner manual. Pre-programmed remote is ready to use out-of-the-box, with simple steps to change programming if desired.
Additional Safety Features – Includes Door Lock which ensures no one can open the door from the outside without first pulling the release handle on the inside.
Aladdin Connect (Model 6170 only) – Integrated smart garage capability provides the option to remotely monitor and control your garage door with your smart device from almost anywhere at any time, while tracking the operation of your door. Since Aladdin Connect is built into the opener, you do not need to add any other hardware.
Battery Backup (Model 6170 only) – Getting in and out of the garage during a power outage has never been easier when your Genie battery backup kicks in.
Upgrade your garage door with the Genie Wall Mount garage door opener. When you purchase and install your new Genie Wall Mount, you don't just save money but you bring safety and convenience to your family.